Archive for the 'Kepler' Category
We take a look at new extra-solar planet discoveries, chimps, supernova, Alzheimer's, Mars, Cables, updates on New Horizons spacecraft and Voyager 1 and as always take a peek back into history and up in the sky this week.
Direct Download:
MP3 Download | Ogg Download | YouTube
RSS Feeds:
MP3 Feed | Ogg Feed | iTunes Feed | HD Video Feed | Mobile Video Feed
Support the Show:
Extra-solar Planets
The low down
Since Feb Kepler has located 1,094 planetary candidates, bringing to total to 2,326. So far, only 29 of these have been confirmed.
Of the planet candidates, 207 are approximately Earth-size, 680 are super Earth-size, 1,181 are Neptune-size, 203 are Jupiter-size and 55 are larger than Jupiter
Ten of these candidates are near-Earth-size and orbit in the habitable zone of their host star. Candidates require follow-up observations to verify they are actual planets.
Previous research hinted at the existence of near-Earth-size planets in habitable zones, but clear confirmation proved elusive.
It often takes years for a planet to orbit, and a number of observations are needed to confirm that a planet is there
Two other small planets orbiting stars smaller and cooler than our sun recently were confirmed on the very edges of the habitable zone, with orbits more closely resembling those of Venus and Mars
*– In the Goldilocks Zone!– *
NASA's Kepler Mission Confirms Its First Planet in Habitable Zone of Sun-like Star
This is NOT the first planet seen in the habitable zone of another star, but it is the first confirmed one seen by Kepler, and the first world smaller than Neptune to be found in middle of its star's habitable zone.
The first transit was captured just three days after the spacecraft operationally ready
Of the 54 habitable zone planet candidates reported in February 2011, Kepler–22b is the first to be confirmed.
Kepler–22b is located 600 light-years away
The planet is about 2.4 times the radius of Earth
Its orbit of 290 days
The planet's host star belongs to the same class as our sun, although it is slightly smaller and cooler.
If the greenhouse warming were similar on this planet, and has a surface, it would be about 70F/21C
Scientists don't yet know if Kepler–22b has a predominantly rocky, gaseous or liquid composition
* Of Note*
The transit detection method yields only a width and orbit time for planets, instead of a weight.
Gravitational wobbles induced the star by the planet indicate only that Kepler 22b cannot weigh more than 36 times more than Earth, the world would weigh about 14 times as much as Earth if it is built the same way
The mass of Kepler–22b could be calculated with the help of a new ground-based instrument in the Spanish Canary Islands that will begin observations next spring.
The new telescope is capable of measuring with high precision a planet's doppler velocity, scientists could calculate the mass and density
*– Jupiter-size planets around massive stars– *
Researchers surveyed about 300 stars using the Keck Observatory in Hawaii and instruments in Texas and Arizona
They focused on stars that are at least 1.5 times more massive than our own sun just beyond the main stage of life , these stars balloon out to become what's known as subgiant stars
They found 18 new alien planets, all of them Jupiter-size gas giants , and they all orbit at least 0.7 times the span from Earth to the sun
Not only do we find Jupiter-like planets more frequently around massive stars, but we find them in wider orbits
* Of Note*
The new finds lend support to one of two theories that attempt to explain the formation and evolution of planets
One theory, called gravitational collapse, holds that planets form when big clouds of gas and dust in the disk spontaneously collapse into clumps that become planets
According to this idea, stellar mass should have little impact on planet size, number and other characteristics
Core accretion, posits that planets grow as gas and dust glom onto seed particles in a protoplanetary disk and depend strongly on the mass of the star
It seems that stellar mass does in fact play an important role leading credence to the Core accretion theory
Multimedia
Social Media
NASA Kepler @NASAKepler
Caltech @caltech
Further Reading / In the News
Flinging Chimps
The low down
Chimps are the only other species besides humans that regularly throw things with a clear target in mind
Researchers studying such behavior have come to the conclusion that throwing feces, or any object really, is actually a sign of high ordered behavior
Watching chimps in action for several years and comparing their actions with scans of their brains to see if there were any correlations between those chimps that threw a lot and those that didn't or whether they're accuracy held any deeper meaning.
Chimps that both threw more and were more likely to hit their targets showed heightened development in the motor cortex
Better throwing chimps didn't appear to posses any more physical prowess than other chimps
Significance
Language processing occurs in the left side, which also controls our right hands; and most people use their right hands to throw, as do chimpanzees.
Such findings led the term to suggest that the ability to throw is, a precursor to speech development.
Those chimps that could throw better appeared to be better communicators within their group
Why did these chimps learn to throw in a captive context? The chimp learns is as a form of communication.
Throwing stuff at someone else became a form of self expression
* Of Note*
While throwing at first might not seem demanding, coordinating it requires intensive, on-the-fly calculations.
An equation for throwing a ball, for example, would include the distance to a target, the ball's heaviness and the thrower's strength. A moving target makes it even harder
Social Media
Emory University @EmoryUniversity
Further Reading / In the News
*— NEWS BYTE — *
Supernova warning signs?
The low down
A Ohio State University team was undertaking a survey of 25 galaxies for stars that brighten and dim in unusual ways
Their goal was to find a star just before it ended its life
One binary star system (consisting of both a blue and red star) located in M51 produced just the results they were looking for
One star dropped amplitude just a short period of time before the other exploded
It's likely that they didn't get any direct observations of the star that exploded – only its much brighter partner.
The team speculates that as many as one supernova per year could emerge from their data set
Significance
The researchers saw one star in this particular binary system dim noticeably before the other one exploded in a supernova during the summer of 2011.
The astronomers surmise the red star was the one that dimmed about 10% over the three-year period while the blue one blew its top
It's likely that they didn't get any direct observations of the star before the supernova, only its much brighter partner.
Their survey provides clues about how stars look and behave before they explode, allowing researchers to identify likely supernova candidates in advance.
* Of Note*
Researchers surmise the red star may have actually survived the supernova
After the light from the explosion fades away, we should be able to see the companion that did not explode
On the other hand …
Maybe stars give off a clear signal of impending doom, maybe they don't, so far we only have one instance.
We'll learn something new about dying stars no matter the outcome
Social Media
OhioState @OhioState
Further Reading / In the News
Published in The Astrophysical Journal
Principal Investigator Christopher S. Kochanek
Co Author Krzystof Stanek
Postdoctoral researcher Dorota Szczygiel
Research team from Department of Astronomy – Ohio State University
Alzheimer's Research
The low down
One of the earliest known impairments caused by Alzheimer's disease is the loss of sense of smell
There is currently no effective treatment or cure for the disease
Since the 1970s, loss of sense of smell has been identified as an early sign of this disease
Smell loss can be caused by a number of ailments, exposures or injuries
Significance
Researchers at Case Western Reserve University School of Medicine have confirmed that the protein, called amyloid beta, causes the loss of sense of smell
Amyloid beta plaque accumulated first in parts of the brain associated with smell, well before accumulating in areas associated with cognition and coordination
Just a tiny amount of amyloid beta – too little to be seen on today's brain scans – start this process
While losses in the olfactory system occurred, the rest of the mouse model brain, including the hippocampus, which is a center for memory, continued to act normally early in the disease stage
Mice were given a synthetic liver x-receptor agonist, a drug that clears amyloid beta from the brain
The sense of smell an be restored by removing a plaque-forming protein in a mouse model of the disease
After two weeks on the drug, the mice could process smells normally
After withdrawal of the drug for one week, impairments returned
Team are now following-up on these discoveries to determine how amyloid spreads throughout the brain, to learn methods to slow disease progression
* Of Note*
We could use the sense of smell to determine if someone may get Alzheimer's disease
Use changes in sense of smell to begin treatments, instead of waiting until someone has issues learning and remembering
We can also use smell to see if therapies are working
Further Reading / In the News
Reversing Early Sign of Alzheimer's – Animal Experiment Successful, For A While @ Medical News Today
Early sign of Alzheimer's reversed in lab @ Medical Xpress
Published in The Journal of Neuroscience
Martian Glaciers
Spandex Cables
The low down
Japanese company Asahi Kasei Fibers, originally designed the elastic cable material, called Roboden, for wiring the soft, flexible skin of humanoid robots.
The new cable can stretch by a factor of 1.5
The cable material is made of an outer elastic shell with spiraled internal wiring that unspirals when pulled.
Multimedia
Further Reading / In the News
Spandex manufacturer makes elastic electrical cable (w/ video) @ PhysOrg](http://www.physorg.com/news/2011–12-spandex-elastic-electrical-cable-video.html)
Stretchable Cables, Designed for Robots, Handy for Humans @ Wired.com](http://www.wired.com/gadgetlab/2011/12/stretchable-cables-designed-for-robots-handy-for-humans/)
New Horizons (Pluto spacecraft) – Update
The low down
New Horizons space craft was launch January 19, 2006
Speeding toward Pluto at around 34,500 mph (55,500 km/hr).
Passed Uranus's orbit on 18 March 2011
Significance
On December 2, 2011, 2,143 days after launch New Horizons became the closest spacecraft ever to Pluto and will be for quite some time
Previous record held by Voyager 1, which came within 983 million miles (1.58 billion km) of the dwarf planet on January 29, 1986
* Of Note*
New Horizons will pass by Pluto and its moons on July 14, 2015 (SciByte 212)
Multimedia
Social Media
NewHorizons2015 @NewHorizons2015
Further Reading / In the News
Voyager 1 – Update
The low down
Launched : Sep 05, 1977
Speed : 10.5 mi/s [17 km/s]
Significance
NASA's Voyager Hits New Region at Solar System Edge
It has entered a new region between our solar system and interstellar space
Voyager 1 is about 11 billion miles (18 billion kilometers) from the sun, it is not yet in interstellar space.
The data do not reveal exactly when Voyager 1 will make it past the edge of the solar atmosphere into interstellar space, but suggest it will be in a few months to a few years.
Social Media
Voyager 1 @NASAVoyager1
Further Reading / In the News
SCIENCE CALENDER
Looking back
Dec 11, 1911 – 100 years ago – Marie Curie's second Nobel Prize : Marie Curie became the first person to be awarded a second Nobel prize. She had isolated radium by electrolyzing molten radium chloride. This second prize was for her individual achievements in Chemistry, whereas her first prize (1903) was a collaborative effort with her husband, Pierre, and Henri Becquerel in Physics for her contributions in the discovery of radium and polonium.
*Dec 7–11 1972 – 39 years ago – Last moon mission *: On Dec 7th Apollo 17, the sixth and last U.S. moon mission, blasted off from Cape Canaveral. On Dec 11th astronauts Gene Cernan and Harrison Schmitt landed on the moon for a three-day exploration, while Ronald E. Evans remained in orbit. Flight Commander Eugene Cernan was the last man on the moon. Typically the backup crew for an Appolo mission was to serve as the main crew 3 missions later, but with Appolo 17 scheduled as the last Moon mission there was heavy pressure to put a geologist to the crew (Schmitt.)
Dec 10, 1984 – 27 years ago – First Extrasolar Planet Discovery Announcement: The National Science Foundation reported the discovery of the first planet outside our solar system, orbiting a star 21 million light years from Earth. The object was found orbiting Van Biesbroeck 8, an extremely faint star about 21 light years from Earth. However, it seemed to abruptly vanish when later attempts to observe its gravitational pull on Van Biesbroeck 8 failed. It is currently unknown whether the object ever existed.
Looking up this week
Keep an eye out for …

Wednesday, Dec 7 : As darkness falls, Jupiter is to the upper right of the Moon.


–Saturday Dec 10 – Total Eclipse of the Moon–

The Moon is totally within the umbra of Earth's shadow for 52 minutes. The partial stages before and after totality each last more than an hour.

At the instant of greatest eclipse (14:32 UT) the Moon lies at the zenith in the Pacific Ocean near Guam.

The exact hue (anything from bright orange to blood red is possible) depends on the unpredictable state of the atmosphere at the time of the eclipse. As Jack Horkheimer (1938–2010) of the Miami Space Transit Planetarium loved to say, "Only the shadow knows."

Timeline

Partial Eclipse Begins – 4:45am PST / 12:45 GMT

Total Eclipse Begins – 6:45am PST / 14:06 GMT

Total Eclipse Maximum – 6:32am PST / 14:32 GMT

Total Eclipse Ends – 6:14am PST / 14:57 GMT

Partial Eclipse Ends – 8:17am PST / 16:17 GMT

What you can see

United States & Canada : The western United States and Canada will witness a total lunar eclipse. The action begins around 4:45am PST when the red shadow of Earth first falls across the lunar disk. By 6:05am PST, the Moon will be fully engulfed in red light.

Europe : Seen as rising over eastern Europe

Asia and Australia : Visible from all of Asia and Australia

Austrailia and Japan : The eclipsed Moon hangs high in middle of the night

South America & Antarctica : Not able to see the eclipse

More on whats in the sky this week
We take a look at the so called 'Tatooine' planet that hit the news recently, some updates on the supposedly faster than light neutrinos, new underwater invisibility cloak technology, maps, Mercury, Tsunami tech, and even take a peek at what's up in the sky this week.
Direct Download:
RSS Feeds:
MP3 Feed | Ogg Feed | iTunes Feed
Show Notes:
Why did we bring SciByte back?
Chris:
Too much out there is just plain distraction, why can't we have our cake and eat it too? This is an important mission for us at Jupiter Broadcasting. We don't want to offer only entertainment, but also information, news, and other things that just make you a treasure trove of small talk at your next cocktail party!
I almost see it as a public service too, this stuff is important and it impacts our entire universe!
Heather:
There are a lot of interesting things going on out there in science, but getting to the interesting bits without all the hype you get from major media outlets is a trick we are hoping to pull off.
The whole scientific method is about investigation and acquiring new knowledge to add to or correct old knowledge. We'll provide you with enough knowledge to show off to friends and family and provide you the means, with the help of our trusty show notes, to further investigate the things that interest you the most.
"Tatooine" Planet
The low down

Located near the western wingtip of the constellation Cygnus the swan.
Both stars are cooler and smaller than our sun, one is 69% and the other only 20% the size of our sun
Kepler 16A and 16B orbit each other every 41 days.
The two stars are approximately 2 billion years younger than our solar system
Kepler–16b is half rock and half gas
The planet orbits around both stars every 229 days (Venus orbits out sun every 225 days)
Kepler–16b lies outside the habital zone
Temperatures on Kepler16b are thought to be around –100 to –150 F / –73 to –101 C
embed[http://www.nasa.gov/multimedia/videogallery/index.html?media_id=111428361]/embed

Significance

Kepler–16b falls inside the radius that was thought to be the inner limit for planet formation in a binary star system, at about half the distance it was thought would be needed for a stable orbit

Next year, Kepler–16b's transit will cause a 1.7 percent drop in the brightness of the bigger star, which will be visible in parts of Asia to amateur astronomers with telescopes.

Due to variations in the orbital plane of the Kepler 16b system as seen from Earth the planet will stop crossing one of the stars as soon as 2014 and cease transiting the other, brighter one in 2018. It will be around 2042 before the show starts up again for Earthlings.
Bill Welsh of San Diego State University was presenting convincing evidence at the conference for at least three and possibly a dozen other circumbinary planets in the Kepler field of view.

Multimedia
Social Media
Further Reading / In the News
Faster than light Neutrinos
The low down

Neutrinos are among the weirdest denizens of the weird quantum subatomic world. Once thought to be massless and to travel at the speed of light, they can sail through walls and planets like wind through a screen door.
1300-metric-ton particle detector named Oscillation Project with Emulsion-tRacking Apparatus (OPERA)
Neutrinos come in three varieties and can morph from one form to another as they travel along, an effect that the Opera experiment was designed to detect by comparing 10-microsecond pulses of protons on one end with pulses of neutrinos at the other.
OPERA detects neutrinos that are fired through the earth and make the 450mi/730km trek from the European particle physics laboratory, CERN
Since neutrinos hardly interact at all with other matter, they stream right through the ground, with only a very few striking the material in the detector and making a noticeable shower of particles.

Significance

Over 3 years, OPERA researchers timed the roughly 16,000 neutrinos that started at CERN and registered a hit in the detector. They found that, on average, the neutrinos made the 730km / 450mi, 2.43-millisecond trip roughly 60 nanoseconds faster than expected if they were traveling at light speed. (~ 0.0025% faster)
There have been over 80 papers either attempting to explain the result using various exotic theoretical models or challenging the experimental calculations
One group countered that challenge by saying they will print a revised version of how they synchronized the clocks to make the method clearer
Various part of the surface of the Earth are exposed to very slight deviations in gravity
The CERN site in Switzerland where the neutrinos were fired has a slightly stronger gravitational pull than Gran Sasso Italy where they were detected.
This slight difference in gravity would affect how fast the two clocks at each end ran.
Keeping time is again the domain of the GPS satellites which each broadcasting a highly accurate time signal from orbit some 20,000km overhead
The radio waves from the GPS satellites do travel at the speed of light, but the time of flight still matters
From the perspective of the clock, the detector is moving towards the source and consequently the distance travelled by the particles as observed from the clock is shorter
There is also a group saying that anything traveling faster than the speed of light would shed energy in the form of radiation, but that type of radiation was not detected
This announcement really seemed to be a group of scientists who had results that they couldn't explain away, so asked the scientific community as a whole to help find any holes to poke in the data.

Multimedia
Social Media
Further Reading / In the News
——————————————- News Byte ———————————————————
Functional Invisibility cloak! using mirage effect underwater
The low down

University of Dallas scientists have found a way to fashion carbon nanotubes, the same material used to improve displays and solar panels, into an invisibility cloak.
Scientists discovered that if they heated the tubes underwater they could create a "mirage effect" to make objects completely disappear.
Carbon nanotubes are one-molecule-thick sheets of carbon that are looped into tubes, They have the density of air, but the strength of steel.

Significance

The carbon nanotubes are essentially recreating the same effect by boiling the water around it and bending light with the resulting water vapor. The effect is immediate, as if somebody is turning on a light switch

Multimedia
Social Media

Twitter account for CERN University of Dallas @UofDallas

Further Reading / In the News
Error in Greenland Ice Map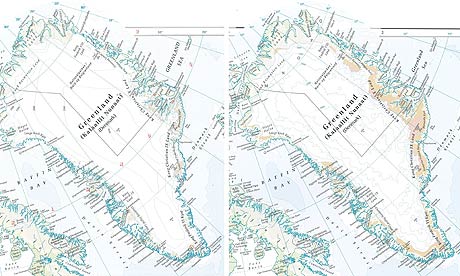 The low down

Latest edition of Britain's influential Times Comprehensive Atlas of the World,originally claimed that Greenland had lost 15 percent of its permanent ice cover from 1999 to 2011.
The National Snow and Ice Data Center- NSIDC located in Colorado however came out to say it was more like 0.1% ice loss during that time.
A glaciologist at the NSIDC center, set out to reverse-engineer the error. His best guess, after a foray into cartographic forensics, was that a mapmaker at the atlas had mistaken a center's map of Greenland's central, thickest ice sheet without peripheral glaciers for one showing its extent.

Significance

While HarperCollins subsidiary Collins Geo, publisher of the Times atlas's 13th edition, originally stood by their maps as printed they have since apologized for the news release
An update will come in the form of an insert, presumably issued to anyone who purchased the atlas. In addition to showing a revised version of the map, the insert will also include information about why the change was made. The Times also plans to publish "any material generated as a result of this activity" online.

Multimedia
Social Media
Further Reading / In the News
Planet Mercury Full of Strange Surprises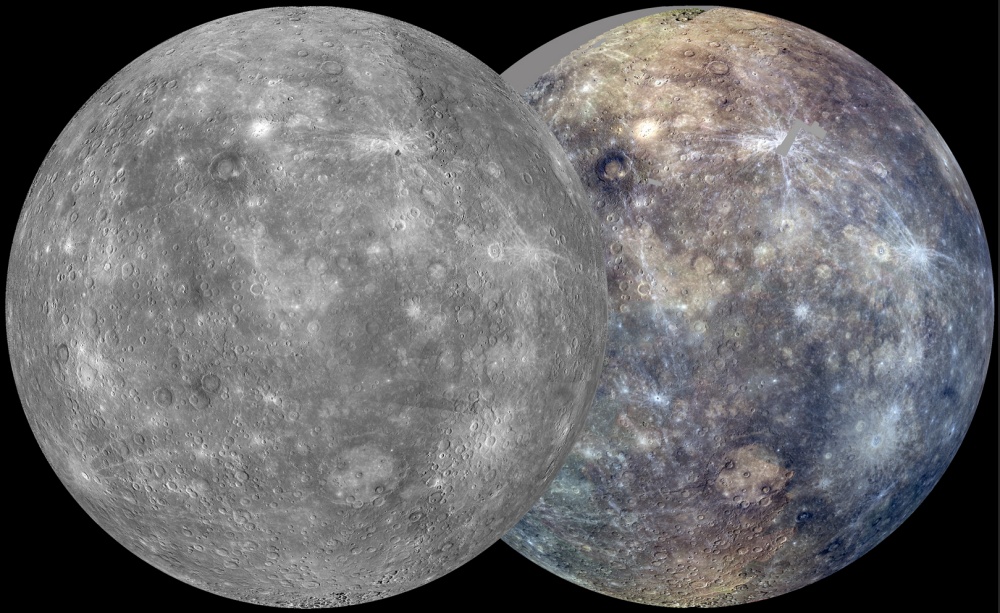 The low down

The Messenger Spacecraft orbiting Mercury has completed it's first Mercury day of orbit
That's 176 Earth days, while Mercury's years is a mere 88 Earth Days, that's 2 years / day
The first 6 months of data was released including information on magnetic field, Mercury's
tenuous exoshpere, and surface composition
The surface composition of Mercury is different the other inner rocky planets
there are huge expanses of volcanic plain in the surrounding the noNorthern polar region
Evidence suggests that it formed during a different time than the other inner planets
There are also substantially hier amounts of sulfur and potassium than predicted (both vaporize at high temperatures, so extreme high-temperature events in it's past are ruled out)
Scientists have also discovered vents, measuring up to 25 kilometers (km) (15.5 miles) in length, that appear to be the source of some of the tremendous volumes of very hot lava that have rushed out over the surface

Mercury has a weak magnetic field
Multimedia
Social Media
Further Reading / In the News
Japans Answer to another Tsunami mini Noah's Arks?
The low down

A Japanese company has developed a floating capsule that looks like a huge tennis ball and is made of enhanced fiberglass
The 300,000yen / $3,900 unit can hold 4 adults, has a small lookout window and has breathing holes on top.

Multimedia
Further Reading / In the News
The complete Astronaut Dad comic revealed at New York Comic-con
A graphic novel that tells a moving, fictional story about a group of backup astronauts in the early 1960s, and the complicated relationships they have with their families.
——————————————–Science Calender——————————————————
Looking back this week
Looking up this week
Keep an eye out for

This month Saturn sets just before Jupiter rises, and Venus is moving from the morning sky before dawn to the evening sky.
This month Jupiter is in opposition (opposite the sun to us), but it makes for good observations
Jupiter is roughly 45° up in the late evening skies to the East (height depends on where you are and what time your observing)
In the Pre-Dawn hours of the 20–22 you can see the Waning Moon in the SE about half way up the sky, along with the planet Mars
You might also be able to see a few Orionid metoers later this week in the SE skies as they peak in the Early morning hours of Saturday Oct 22, waiting till just after midnight might get you rates of up to 25 meteors per hour ( ~ 1/ 2.5 min )
The ROSAT X-ray observatory, launched in 1990 by NASA and managed for years by the German Aerospace Center (DLR), will re-enter the Earth's atmosphere within the next two weeks. Current best estimates place the re-entry between Oct. 21st and 24th over an unknown part of Earth. (A Day before re-entry the estimate will be +/- 5 hours)
Check the links for more information and updates, when and where you can see satellites going over head and even ongoing data updates on the chances of Aurora where you live

More on whats in the sky this week
Today the SETI project announced they'd be suspending the search for alien signals indefinitely today. We look at what it would take to start this project back up, and why the timing of this shutdown is so critical!
Plus we chat about what this really means for the long term life of the SETI@Home project.
Show Feeds:
Show Notes:
Mountain View SETI announces "hibernation" of Allen Array
http://www.mercurynews.com/ci_17926565?nclick_check=1
Actual .PDF sent to investors:
http://archive.seti.org/pdfs/ATA-hibernation.pdf
- Indefinite closure due to lack of funding
* If every US citizen donated 3 cents annually, they could operate indefinitely.
* Actual pricetag: only $5million, over the next two years
- Original construction privately funded primarily by Paul Allen (total of $50million donations)
* Now maintained by UC Berkeley thru donations from …
– Nat'l Science Foundation: Cut funding to 1/10th of previous year.
– State of California: Cut funding COMPLETELY
Timing could not be worse:
* Kepler telescope recently catalogued 1,235 planets potentially capable of supporting life
* SETI senior astronomer Seth Shostak compared the project's suspension to "the Niña, Pinta and Santa Maria being put into dry dock. "
Future of SETI:
The Allen Array is not the only SETI station, but it is the only one dedicated entirely to the project. Elsewhere, teams have to borrow/rent time on arrays.
The SETI@Home project will continue: http://setiathome.berkeley.edu/
But since this is a sifting of 'old' data, to find things that SETI scientists may've missed, it may slow down? With less data coming in, will there be enough for hobbyists to sift through?
setiQuest.org: http://setiquest.org/
Similar to SETI@home, except that it uses HUMANS instead of "at rest" CPU cycles to track patterns of potential signals. Thanks to partnership with GalaxyZoo project, significant findings can be followed up on almost immediately.
Also includes (or will include) an open-source initiative for code and algorithm development, to further increase the efficiency of SETI.
Our thoughts on SETI:
-A gov't sponsored answering machine? At least then, they won't get a busy signal when dialing in. That'd be embarrassing.
-Arczer believes that SETI is the only thing keeping the invasion at bay. Now they can take us by surprise!
Download: