Archive for the 'Jupiter Broadcasting' Category
We take a look at the so called 'Tatooine' planet that hit the news recently, some updates on the supposedly faster than light neutrinos, new underwater invisibility cloak technology, maps, Mercury, Tsunami tech, and even take a peek at what's up in the sky this week.
Direct Download:
RSS Feeds:
MP3 Feed | Ogg Feed | iTunes Feed
Show Notes:
Why did we bring SciByte back?
Chris:
Too much out there is just plain distraction, why can't we have our cake and eat it too? This is an important mission for us at Jupiter Broadcasting. We don't want to offer only entertainment, but also information, news, and other things that just make you a treasure trove of small talk at your next cocktail party!
I almost see it as a public service too, this stuff is important and it impacts our entire universe!
Heather:
There are a lot of interesting things going on out there in science, but getting to the interesting bits without all the hype you get from major media outlets is a trick we are hoping to pull off.
The whole scientific method is about investigation and acquiring new knowledge to add to or correct old knowledge. We'll provide you with enough knowledge to show off to friends and family and provide you the means, with the help of our trusty show notes, to further investigate the things that interest you the most.
"Tatooine" Planet
The low down

Located near the western wingtip of the constellation Cygnus the swan.
Both stars are cooler and smaller than our sun, one is 69% and the other only 20% the size of our sun
Kepler 16A and 16B orbit each other every 41 days.
The two stars are approximately 2 billion years younger than our solar system
Kepler–16b is half rock and half gas
The planet orbits around both stars every 229 days (Venus orbits out sun every 225 days)
Kepler–16b lies outside the habital zone
Temperatures on Kepler16b are thought to be around –100 to –150 F / –73 to –101 C
embed[http://www.nasa.gov/multimedia/videogallery/index.html?media_id=111428361]/embed

Significance

Kepler–16b falls inside the radius that was thought to be the inner limit for planet formation in a binary star system, at about half the distance it was thought would be needed for a stable orbit

Next year, Kepler–16b's transit will cause a 1.7 percent drop in the brightness of the bigger star, which will be visible in parts of Asia to amateur astronomers with telescopes.

Due to variations in the orbital plane of the Kepler 16b system as seen from Earth the planet will stop crossing one of the stars as soon as 2014 and cease transiting the other, brighter one in 2018. It will be around 2042 before the show starts up again for Earthlings.
Bill Welsh of San Diego State University was presenting convincing evidence at the conference for at least three and possibly a dozen other circumbinary planets in the Kepler field of view.

Multimedia
Social Media
Further Reading / In the News
Faster than light Neutrinos
The low down

Neutrinos are among the weirdest denizens of the weird quantum subatomic world. Once thought to be massless and to travel at the speed of light, they can sail through walls and planets like wind through a screen door.
1300-metric-ton particle detector named Oscillation Project with Emulsion-tRacking Apparatus (OPERA)
Neutrinos come in three varieties and can morph from one form to another as they travel along, an effect that the Opera experiment was designed to detect by comparing 10-microsecond pulses of protons on one end with pulses of neutrinos at the other.
OPERA detects neutrinos that are fired through the earth and make the 450mi/730km trek from the European particle physics laboratory, CERN
Since neutrinos hardly interact at all with other matter, they stream right through the ground, with only a very few striking the material in the detector and making a noticeable shower of particles.

Significance

Over 3 years, OPERA researchers timed the roughly 16,000 neutrinos that started at CERN and registered a hit in the detector. They found that, on average, the neutrinos made the 730km / 450mi, 2.43-millisecond trip roughly 60 nanoseconds faster than expected if they were traveling at light speed. (~ 0.0025% faster)
There have been over 80 papers either attempting to explain the result using various exotic theoretical models or challenging the experimental calculations
One group countered that challenge by saying they will print a revised version of how they synchronized the clocks to make the method clearer
Various part of the surface of the Earth are exposed to very slight deviations in gravity
The CERN site in Switzerland where the neutrinos were fired has a slightly stronger gravitational pull than Gran Sasso Italy where they were detected.
This slight difference in gravity would affect how fast the two clocks at each end ran.
Keeping time is again the domain of the GPS satellites which each broadcasting a highly accurate time signal from orbit some 20,000km overhead
The radio waves from the GPS satellites do travel at the speed of light, but the time of flight still matters
From the perspective of the clock, the detector is moving towards the source and consequently the distance travelled by the particles as observed from the clock is shorter
There is also a group saying that anything traveling faster than the speed of light would shed energy in the form of radiation, but that type of radiation was not detected
This announcement really seemed to be a group of scientists who had results that they couldn't explain away, so asked the scientific community as a whole to help find any holes to poke in the data.

Multimedia
Social Media
Further Reading / In the News
——————————————- News Byte ———————————————————
Functional Invisibility cloak! using mirage effect underwater
The low down

University of Dallas scientists have found a way to fashion carbon nanotubes, the same material used to improve displays and solar panels, into an invisibility cloak.
Scientists discovered that if they heated the tubes underwater they could create a "mirage effect" to make objects completely disappear.
Carbon nanotubes are one-molecule-thick sheets of carbon that are looped into tubes, They have the density of air, but the strength of steel.

Significance

The carbon nanotubes are essentially recreating the same effect by boiling the water around it and bending light with the resulting water vapor. The effect is immediate, as if somebody is turning on a light switch

Multimedia
Social Media

Twitter account for CERN University of Dallas @UofDallas

Further Reading / In the News
Error in Greenland Ice Map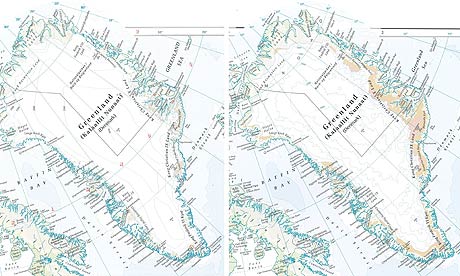 The low down

Latest edition of Britain's influential Times Comprehensive Atlas of the World,originally claimed that Greenland had lost 15 percent of its permanent ice cover from 1999 to 2011.
The National Snow and Ice Data Center- NSIDC located in Colorado however came out to say it was more like 0.1% ice loss during that time.
A glaciologist at the NSIDC center, set out to reverse-engineer the error. His best guess, after a foray into cartographic forensics, was that a mapmaker at the atlas had mistaken a center's map of Greenland's central, thickest ice sheet without peripheral glaciers for one showing its extent.

Significance

While HarperCollins subsidiary Collins Geo, publisher of the Times atlas's 13th edition, originally stood by their maps as printed they have since apologized for the news release
An update will come in the form of an insert, presumably issued to anyone who purchased the atlas. In addition to showing a revised version of the map, the insert will also include information about why the change was made. The Times also plans to publish "any material generated as a result of this activity" online.

Multimedia
Social Media
Further Reading / In the News
Planet Mercury Full of Strange Surprises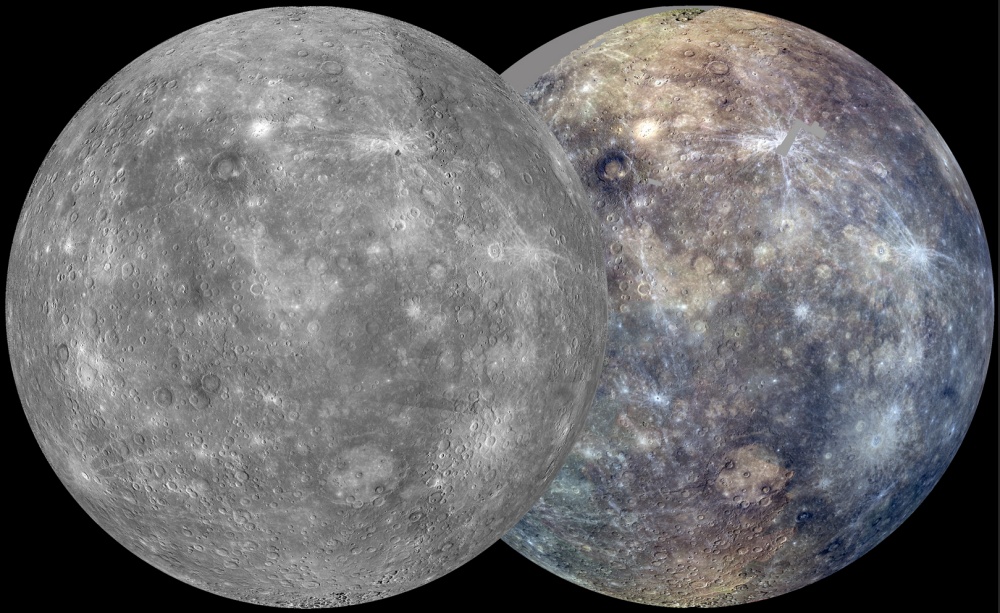 The low down

The Messenger Spacecraft orbiting Mercury has completed it's first Mercury day of orbit
That's 176 Earth days, while Mercury's years is a mere 88 Earth Days, that's 2 years / day
The first 6 months of data was released including information on magnetic field, Mercury's
tenuous exoshpere, and surface composition
The surface composition of Mercury is different the other inner rocky planets
there are huge expanses of volcanic plain in the surrounding the noNorthern polar region
Evidence suggests that it formed during a different time than the other inner planets
There are also substantially hier amounts of sulfur and potassium than predicted (both vaporize at high temperatures, so extreme high-temperature events in it's past are ruled out)
Scientists have also discovered vents, measuring up to 25 kilometers (km) (15.5 miles) in length, that appear to be the source of some of the tremendous volumes of very hot lava that have rushed out over the surface

Mercury has a weak magnetic field
Multimedia
Social Media
Further Reading / In the News
Japans Answer to another Tsunami mini Noah's Arks?
The low down

A Japanese company has developed a floating capsule that looks like a huge tennis ball and is made of enhanced fiberglass
The 300,000yen / $3,900 unit can hold 4 adults, has a small lookout window and has breathing holes on top.

Multimedia
Further Reading / In the News
The complete Astronaut Dad comic revealed at New York Comic-con
A graphic novel that tells a moving, fictional story about a group of backup astronauts in the early 1960s, and the complicated relationships they have with their families.
——————————————–Science Calender——————————————————
Looking back this week
Looking up this week
Keep an eye out for

This month Saturn sets just before Jupiter rises, and Venus is moving from the morning sky before dawn to the evening sky.
This month Jupiter is in opposition (opposite the sun to us), but it makes for good observations
Jupiter is roughly 45° up in the late evening skies to the East (height depends on where you are and what time your observing)
In the Pre-Dawn hours of the 20–22 you can see the Waning Moon in the SE about half way up the sky, along with the planet Mars
You might also be able to see a few Orionid metoers later this week in the SE skies as they peak in the Early morning hours of Saturday Oct 22, waiting till just after midnight might get you rates of up to 25 meteors per hour ( ~ 1/ 2.5 min )
The ROSAT X-ray observatory, launched in 1990 by NASA and managed for years by the German Aerospace Center (DLR), will re-enter the Earth's atmosphere within the next two weeks. Current best estimates place the re-entry between Oct. 21st and 24th over an unknown part of Earth. (A Day before re-entry the estimate will be +/- 5 hours)
Check the links for more information and updates, when and where you can see satellites going over head and even ongoing data updates on the chances of Aurora where you live

More on whats in the sky this week
When your data is important, understanding RAID can make the difference between a major loss, or saving the day. We'll break down the different types of RAID, and the setups we've found to work best!
All that and more, in this week's TechSNAP.
Direct Download Links:
HD Video | Large Video | Mobile Video | MP3 Audio | OGG Audio | YouTube
Subscribe via RSS and iTunes:

Show Notes:
---
The system would have browsers anonymously submit copies of all certificates that they encounter to the EFFs SSL Observatory
Rouge certificates would be detected and the users could be warned about the danger
The system would work in a similar way to Google's SafeSearch
---
Adobe reported that the vulnerability is actively being exploited by attempting to trick user into clicking on a malicious link delivered in an email message.
A similar attack was used against RSA as we discussed in episode 2 of TechSNAP
---
SSL 3.0 and TLS 1.0 are vulnerable to an attack that can disclose private data
The researchers proof of concept can be used against popular sites such as PayPal
The exploit requires the attacker to be in a 'man-in-the-middle' position, and uses a 'chosen plain-text attack' against the AES encryption algorithm often used by SSL/TLS.
The attack works by having malicious javascript inject known plain text into the encrypted data stream, offering the attackers a chosen plain text to target their cryptanalysis against.
Not all SSL implementations default to AES, OpenSSL prefers the Camellia cipher first, however, a man-in-the-middle attack could influence the list of allowable ciphers, causing AES to be chosen as the cipher suite.
The researchers have been working with browser vendors since May to develop a solution, however every proposed patch has been found to break compatibility with some major SSL appliance resulting in a number of major sites not being reachable over SSL. Thus far browser vendors have not resolved the issue.
The attack is relatively slow, and requires a MiTM position, so it not likely to result in the breakdown of all e-commerce, however, it could be used quite effectively against public wifi spots.
Interesting notes from my own research, Cipher Suite Preference Order:
PayPal

AES256-SHA
AES128-SHA
DES-CBC3-SHA
RC4-SHA
RC4-MD5

Google (Docs, Gmail)

RC4-SHA
RC4-MD5
AES256-SHA
DES-CBC3-SHA
AES128-SHA

Facebook

RC4-MD5
RC4-SHA
AES128-SHA
AES256-SHA
DES-CBC3-SHA

Hotmail

AES128-SHA
AES256-SHA
RC4-SHA
DES-CBC3-SHA
RC4-MD5

StarTrekOnline.com

AES256-SHA
AES128-SHA
DES-CBC3-SHA
DES-CBC-SHA
RC4-SHA
RC4-MD5

ScaleEngine.com (OpenSSL HIGH:!MD5)

DHE-RSA-CAMELLIA256-SHA, CAMELLIA256-SHA
DHE-RSA-CAMELLIA128-SHA, CAMELLIA128-SHA
DHE-RSA-AES256-SHA, AES256-SHA
DHE-RSA-AES128-SHA, AES128-SHA
EDH-RSA-DES-CBC3-SHA, DES-CBC3-SHA

None of these sites support SSLv2
Statistics shows that as many as 35% of SSL enabled sites are still vulnerable to a 2009 attack. Some sites purposely delay deploying SSL updates due to concerts about compatibility with outdated browsers, especially since SSL is used primary for e-commerce.
---
Intel has worked with RealVNC to embed a VNC Remote Frame Buffer server directly into the BIOS and vPro management chipset
Featuring include allowing you to remotely change BIOS settings, mount virtual images for reinstalling or repairing the OS, full remote-kvm features and remote reboot capability
The VNC access is secured using the existing on board encryption and certificate system built into the Intel vPro Management Engine Chipset.
vPro must be enabled, assigned an IP address and certificate (or strong password) in order to be used, so this will not expose unconfigured computers to the risk of being unintentionally remotely controlled.
---
Feedback:
Home Server Segment – Storage. There are many different types of RAID, a set of technologies that allow multiple independent physical disks to act as a single logical disk. The different types of RAID provide different advantages and disadvantages and have various uses.
RAID 0 uses any number of disks and spreads the data between the disks, usually in blocks of 64 or 128kb. The total size of the logical disk will be N * smallest disk
This means that while reading and writing data, you have more physical heads doing the work, meaning that when read or writing a large amount of data, all of the disks can work in tandem, resulting in higher throughput
The disadvantage to RAID 0 is that there is no redundancy, if any one disk in the set fails to work, all data in the entire RAID array is no longer usable.
Common use cases for RAID 0 are things such as Video Editing that requires extremely high throughput rates
RAID 1 is the most basic type of RAID, it requires an even number of disks. Each pair of disks contains identical information. The total size of the logical disk is N/2 * smallest disk.
When one of the two disks fails, the other contains exactly the same data, and the system can continue to operate. The failed disk can then be replaced, and the remaining disk has it's data cloned to the new disk (this process is called Resilvering), restoring the system to full operational status.
RAID 1 can improve read performance because two heads can be seeking at the same time, however it cannot improve write performance, as both disks must write all changes made to the data
The disadvantage to RAID 1 is that you lose half of the storage capacity of the drives you put in to the array
RAID 1 is typically used for systems that require high fault tolerance, and the ability to continue to operate even during a disk failure
RAID 2 is not currently used, the original specification called for disks that would rotate and seek in unison and offer the possibility of higher transfer rates.
RAID 3 is similar to RAID 0, however instead of using large blocks, data is split between the drives at the byte level. This is very rare in practise because of the limited number of IOPS that most disks can handle, and the fact that RAID 3 suffers from a great loss of speed if more than 1 operation is run concurrently
RAID 4 works similar to RAID 5 below, except that it uses a dedicated parity disk
RAID 5 combines striping (RAID 0) with parity. This means that as each group of blocks is written, a parity block is calculated and written to one of the disks. This way, if any one of the disks were to fail, using the remaining blocks and the parity block, it would be possible to calculate what the missing block should be. The total size of the logical disk is N – 1 * smallest disk.
During operations, if a disk fails, the RAID array will be in what is know as 'degraded' mode, where the controller must do the calculations to determine what the missing data would be. This results in significantly lower performance. However the array can be restored to healthy status by replacing the failed disk, and allowing it to 'resilver' (the process of calculating each block of data that should exist on that drive, and writing it to the disk).
RAID 5 provides a the advantages of RAID 0 (speed, use of most of your disk capacity), while still providing some fault tolerance.
The parity data is storage spread across all of the disks, rather than always one one specific disk, for more even performance, because the parity calculation is
RAID 5 is typically used in servers where a large amount of storage and performance is required, but some degree of fault tolerance is also warranted. RAID 5 is rarely available on built-in RAID controllers due to the complexity of the parity calculations.
RAID 6 works like RAID 5 except with two copies of the parity information. The size of the logical disk is N–2 * the smallest disk
RAID 6 provides additional fault tolerance, specifically it allows the array to continue to operate if more than 1 disks fails at once, or if a second disk fails before the first can be resilvered. In a RAID 5 array, if a second disk dies before the first failed disk is completely restored, the entire array is lost.
RAID 6 is typically used in servers that require more storage and more fault tolerance than RAID 1 can provide, and where RAID 5 is just not enough fault tolerance. RAID 6 usually requires a rather expensive hardware controller.
Some complex controllers can allow you to do 'nested raid levels'.
A mirrored array of two striped arrays, allowing both speed and fault tolerance
A stripped array of two RAID 6 arrays, providing additional performance on top of the fault tolerance and larger capacity of RAID 6. This setup is also common in setups where the RAID 6 arrays are on separate controllers.
Roundup
Bitcoin-Blaster:
Bitcoin Market Value: $40,493,702 USD
In today's episode, we're going to take a first look at Funcom's upcoming Horror/Conspiracy MMO, The Secret World. Despite not having the hands-on demo they hoped to have available at PAX, they still dropped a boatload of information onto awaiting fans, including several innovative features and game mechanics that make this game worthy of attention.
Show Notes:
In addition to that, we'll cover some recent news from DC Universe, as well as updates on the F2P conversions of City of Heroes and Fallen Earth.
Before that however, I'd like to share some potentially upsetting news about the immediate future of SWTOR:
SWTOR – Release Delay Imminent?
Beta Weekends Cancelled: LINK
Official Statement
Release Date Might Slip
Anyone following the beta news closely may have already heard that Bioware recently chose to cancel a couple of their beta test weekends, after the first round of them went in a few unexpected directions. They've spun this as being in the best interest of potential players and testers – and honestly, I believe that assessment to be true – but it's still another potential red flag that Bioware may not be completely ready to be in charge of a top-shelf MMORPG such as this. I hope they DO take their time with this beta process, and work out all the kinks prior to launch. But at the same time, too many hiccups similar to this one may begin to erode consumer confidence in the eventual launch of the title.
And, as if this beta cancellation wasn't enough bad news for the game's supporters, it recently slipped out during an internal conference call that EA already has contingency plans in place just in case the launch of TOR may slip from Q4 of 2011 to Q1 of 2012. Could a launch delay be imminent? I can trust that'd be in the game's best interest if so, but I'm hoping that it's smooth sailing for this title from here on out, simply due to the amount of attention the title is receiving in both MMO communities, and gaming communities in general. As I mentioned a few episodes back, this game has enough hype behind it that any potential missteps by Bioware through this process have the potential to further reinforce the poor reputation that MMOs have for launching in a buggy, unplayable manner. Please Bioware… get your act together, for all our sakes!
Secret World
Based on the gameplay footage I've seen of this game so far, I'll admit that I'm not all that impressed with the game as a whole. My primary complaint being that this is supposed to be a SECRET world of conspiracy and intrigue, and everything we've seen so far shows hordes of magic-wielding superheros doing combat with monstrous zombies and cthulu-esque creatures that stand 2–4 stories tall. Not so secret looking, if you ask me.
Then there's the development process itself, which has been suffering from repeated delays and mixed messages. Despite already having publicized a launch date of March 24th, the game is not even in Closed Beta yet. This, to me, feels like jumping the gun in a very big way, despite that launch date being more than 6 months from now.
But, my personal gripes with a few of the game's details do not diminish the innovations that are taking place in regards to a few specific mechanics within the game. Some of them are inventive enough that I've decided to take the time to showcase them in a brief preview.
Environmental Interactions

Ambient critters will react to environmental stimulii. The examples we've so far seen are car alarms getting zombies' attention (and spawning extra baddies), and light sources attracting the attention of baddies in the dark.
This added layer of complexity assists in keeping the game in the Real World.
This light source mechanic can also be utilized in PvP, where some maps will be too dark to see clearly in, but using a light source will attract the attention of enemy players. Meaning you have to choose between being seen, and being able to see.

PvP outfits

When entering a PvP match, players will have their appearance automatically altered to match their "role" based on the powers they have chosen. Healers will end up looking like healers, stealthy melee types will look like thiefs, etc.
While this diminishes the players' ability to show off their custom avatar in PvP, it also makes it easier to be able to pick targets in a match. So your allies will know who to protect and synergize skills with, while the enemy will know who to focus their attacks on.

3-faction gameplay

This is something that Funcom is not talking much about, but that I feel the need to draw attention to.
The only prior game that I know of with a 3-faction PvP gameplay mechanic, was Dark Age of Camelot, which is still considered by many one of the best PvP experiences that has ever been available online.
The strength of 3-faction PvP comes in the form of a socially-driven balance. It is exceedingly difficult for any single faction to gain dominance over the remaining two at any point, because which ever faction gains such a strong foothold will inevitably be targeted by the other two.

Skill System, No Respecs

Over 500 unique skills (not just improved ranks of other stuff, but unique effects)
You earn more and unlock them as you adventure, but start with a full suite of abilities.
Much like Guild Wars, you can freely respec at any time. Swapping out a full set of 7 actives and 7 passives, for any other skills you have so far learned.
Funcom claims that the difficulty of this game is based on players' skill, and not the abilities in the game scaling up. That even "starter" abilities are viable later in a players' life, and will scale up based on your equipment, and not any set of stats or level.

ARG – Investigation Missions

Scattered throughout TSW will be missions that inspire the player to investigate strange leads OUTSIDE OF THE GAME.
This is perhaps the most importantly unique aspect of TSW, as it allows players to feel like a real part of their world, rather than playing in some fantasy realm. It adds an extra level of instinctual immersion when visiting iconic cities like NYC and London, when you are also asked to research the history and myth of these locations in a real-world scenario.
One example given, is a locked crate in the wreckage of a shipping barge. Using the internet, you can look up the ship's manifest online and cross-reference the crate number printed on the side of the shipping container in-game. Following these clues will lead you to the access codes to the crate.
Some are FAR more complicated than this, requiring players to actually research occult references in general, drawing the player further into the game's mythos.
The downside here is that, unless Funcom is able to author a full suite of these missions anew every few months, players will quickly solve them all and post the solutions online for anyone to find without having to follow the clues.

There will also be events that take advantage of this mechanic, and are cross-faction competitive. Whichever of the 3 factions solve it first, gets a boost of some sort as a reward that affects the entire faction.
Subscription Model
Monthly Subs + Cash Shop
We're TOLD it will be "cosmetics and conveniences only" … but we've been told the same thing in other games, and it never quite works out that way. So, time will tell if they can stick to their guns on this.
Really, though, this is GOING to upset players. Subscribers are left asking why, exactly, it is that their monthly subscription fee doesn't get them the entirety of all this game has to offer, when it does in other competitor MMOs. Why should they be asked to pay extra to have a specific look?
To quench those fears, Funcom needs to make these same cosmetic items available in-game in some manner. In fact, offering a way for players to acquire those items in-game may even drive additional cash shop sales of those same items. I know it seems backwards, but MMO players are generally more likely to buy the CONVENIENCE of being able to bypass a time investment, than they are to simply buy an item that they cannot otherwise obtain.
Fight for the Light – FREE!
http://massively.joystiq.com/2011/09/06/dcuos-fight-for-the-light-pack-available-today/
Many of you may recall that I covered SOE's big PR blunder a few weeks back, regarding their decision to charge subscribers for the "Fight for the Light" mini-expansion to DCUO. I was not alone in my outrage over this decision, especially considering their prior promises that future content would be delivered free of charge.
Well, I have a bit of good news for anyone still following this subject… SOE has mended their ways, and decided to offer the Fight for the Light expansion free of charge to all subscribers.
In my opinion… this is too little, too late.
The damage to their reputation over this violation of trust has already been done. I don't foresee them digging themselves out of this particular blunder simply by going back on a bad decision. The decision was still made, and they took too long to recognize their mistake. It's nice of them to have eventually come around, but I believe the damage has already been done.
Additionally, with their competitors in the Superhero MMO genre both now offering their game under a F2P subscription model, I don't foresee a bright future for DCUO. Which is a shame. I had high hopes for this title for many reasons, not the least of which its action-oriented combat which I'd like to see more frequently in the MMO arena. It would be a real waste to see an innovative set of mechanics like this be buried by poor management decisions on behalf of SOE.
Free-To-Play Conversion Updates
Fallen Earth – F2P launching Oct 12th
Link directly to matrix of subscription levels
Before I sign off for this week, I'd like to do a quick update regarding the impending F2P conversion of City of Heroes and Fallen Earth.
First off, we now have an official launch date and subscription matrix available for Fallen Earth, which will undergo its F2P conversion on October 12th.
Based on my review of the matrix, it looks like they're doing a good job of incentivizing the subscription options available. Even the cheap-o $10/mo one looks nice. But the $30/mo subscription looks to have very little benefit for players going into the game alone, as its primary benefit is in the form of an aura that bestows "premium" boosts similar to a $15/mo sub, on anyone grouped with the $30/mo player. I could see that being handy, but the value is questionable in my opinion.
It's nice to see the trend of offering stipends to subscribers is continuing, however.
City of Heroes – VIP access starts this week!
And City of Heroes undergoes a launch to existing subscribers on Sept 13th… in fact, by the time you're seeing this episode, VIP members (those with active subscriptions) will already begin playing the game with the new set of features.
They still haven't announced a solid launch date for when Freebies will be able to join the rank and file of Paragon City's superheroes and villains. I'm taking that indication to mean that this is a sort of beta period rather than a head start. So subscribers get to be the guinea pigs before the unwashed masses are let back in. Now that's what I call a subscriber benefit!
Wait… what?
Next Week:
Age of Conan – Unchained
Firefall was all over the floor at PAX Prime, and several of us got our hands on the playable PvP demo, as well as a PvE event demo. In addition to this footage, we also have a hands-on explanation of some of the game's backstory and classes from a Red 5 staff member. Enjoy!
Check out some of the latest gameplay footage from ArenaNet's innovative upcoming MMORPG, Guild Wars 2. This video includes a glimpse of character creation, and a ton of PvP footage from various demos held throughout PAX Prime 2011.
Join four of ArenaNet's core writers and loremasters as they take us a behind-the-scenes look at the processes involved in fleshing out the world of Guild Wars and Guild Wars 2.
Jeremy interviews LoL:Dominion producer, Mark Norris, to delve into what the unique gameplay mechanics of League of Legends may offer for an MMO gamer.
You want shots of booth babes? We got shots of booth babes! Also some of the fantastic fan costumes we saw wandering around the exhibition floor at this year's PAX Prime 2011.
Check out the bits that grabbed J-Man's attention on Day One of PAX, including Firefall, Guild Wars 2, a brand-new Free-to-Play FPS called Blacklight Retribution, and EXCLUSIVE footage of a new game mode in Rusty Hearts.
This week on SciByte we throw science at a few Old Wives Tales … and see what sticks. Plus we take a look at the science that makes them true, false or somewhere in between.
Show Notes:
Do you really catch a cold by getting cold?
No : The flu and the common cold are caused by viruses
Origins : Both the cold and the flu tend to be seasonal, which is probably why cold weather took all the 'heat'.
When it is cold outside ..

People tend to stay inside and are more likely to spread germs to one another.
People are exposed to each other more in the winter than in the summer
School is in session, kids are around each other all day

There is also evidence now that viruses spread more easily through dry air.
Hypothermia, not just being cold, suppresses immunity
There are conflicting results on weather or not simple cold air exposure compromises the immune system, some experiments even show that cold air exposure stimulates the immune system
The Common Cold …. resistance is futile
There is still no known treatment that shortens the duration.
It does spontaneously resolve in 7–10 days, although symptoms can last up to three weeks
Average contraction rate is 2–4 times a year for an adult, and 6–12 for a child
InFLUenza
Although it may produce nausea, the "stomach flu" is NOT acutally the flu virus, but gastroenteritis
Typically transmitted through the air by coughs or sneezes that cause aerosols containing the virus, it can also be transmitted through direct contact with bird droppings, nasal secretions, or contaminated surfaces
Speaking of cold weather and protecting yourself …
Do you really lose most of your body heat from your uncovered head?
Actually it depends on the circumstances.
Origins : US army survival manual from 1970 which strongly recommended covering the head when it is cold, since "40 to 45 percent of body heat" is lost from the head.

At least as recent as 2008 the US Army Survival Guide has the same warning about head protection in cold weather.
How did they get that? : An interpretation of the data from an experiment by the US military in the 1950s that had volunteers dressed in Arctic survival suits and exposed to bitterly cold conditions. Because the only part of their bodies left uncovered was their heads, most of their heat was lost through there.

It's still a good idea to cover your head in cold weather, it does hold your brain!

Thermoregulation : The blood vessels in your limbs and extremities will react by constricting in the cold to preserve the heat to you 'core' systems. Since the brain is a core system, the blood vessels do not constrict and your body continues to try to keep your brain the same temperature.
Attention! Thermodynamics has entered the webshow
The fundamental modes of heat transfer are:
Conduction or diffusion : The transfer of energy between objects that are in physical contact
Convection : The transfer of energy between an object and its environment, due to fluid motion ( in this case fluid also referees to gasses, like the air)
Radiation : The transfer of energy to or from a body by means of the emission or absorption of electromagnetic radiation
Mass transfer : The transfer of energy from one location to another as a side effect of physically moving an object containing that energy
While you are standing in cold air the main mode of heat transfer is convection, although any physical contact you have with an object colder than you introduces conduction as well
In convection the amount of heat you loose per unit time is determined by the objects heat transfer coefficient the difference in the temperature and the area exposed
Conduction also relies upon material coefficients, difference in temperature and the size and shape of the object.
In the case of the US military experiments above, the Arctic suits provided a barrier that slowed the rate of convection from the persons body to the air; however the head had no such barrier. Therefore the head was able to conduct the body's heat unimpeded.
But if ALL the brain is where the science happens …
If we need 'all' portions of our brain … what about people who have had segments of there brain removed?
Hemispherectomy—where half the brain is removed

Generally used to treat debilitating seizure disorders that do not respond to medication
Unbelievably, the surgery has no apparent effect on personality or memory
Disconnects communication between the two hemispheres, preventing the spread of seizures to the functional side of the brain.

Only in cases where the benefits of removing the problems caused (electrical or otherwise) by an afflicted portion of the brain outweigh the benefits that remain in the afflicted side of the brain.
Not THAT kind of hemi …
All hemispherectomy patients suffer at least partial hemiplegia on the side of the body opposite the removed or disabled portion, and may suffer problems with their vision as well.
Hemiplegia : total paralysis of the arm, leg, and trunk on the same side of the body
It is almost exclusively performed in children because their brains generally display more [neuroplasticity](http://en.wikipedia.org/wiki/Neuroplasticity, allowing neurons from the remaining hemisphere to take over the tasks from the lost hemisphere
Left Side of Brain and speech

It was thought at one time that if you took it after the age of two you would never talk again
It has been shown that while most people have problems with their speech, the younger the patient the less disability there is
Do you get cramps from swimming just after you eat?
NOTE : Drowning is a leading cause of accidental deaths in infants and children
However, the thought that a sandwich or any snack will cause you to sink like a stone is FALSE
Possible Origins

The thought that eating caused high blood flow to the stomach would cause low blood flow to limbs
In the 50's and 60's there were fewer lifeguards to it is possible that parents simply wanted to be able to relax during lunch time without worrying.
Whoever Charley is … I hate him and his horse
Muscle cramps are unpleasant sensations caused by muscle contractions or over shortening.
They can be caused my a variety of things, including muscle fatigue, low sodium, and low potassium
While none of the following have been conclusively proven to help, there is anecdotal evidence that most people under the grip of a cramp are willing to try.
alternatively tensing and relaxing the afflicted muscle, stretching, massage, heat, water, electrolytes, banana, Vitamin B, orange juice
Food, glorious food!
In the stomach hydrochloric acid both kills most contaminating microorganisms and begins the mechanical break down of foods
While there may be an increase of blood flow to the stomach wile is is 'churned' in the stomach that has no direct correlation to muscle contractions in your limbs
So the kids aren't going to drown just because they ate a PB&J, what determines boy vs girl
If your belly is round it's a girl and oval like a football it's a boy…
There have been many theories throughout history about guessing the baby's gender
With so many body shapes really … chances are slightly higher for a boy
The gender of your baby is determined by whether the fertilizing sperm has an X or a Y chromosome. An X chromosome will lead to a girl, a Y to a boy.
I'm tired after dealing with the kids at the pool, and I want to read before bed time …
Reading in dim light or sitting too close to the TV damages your eyes.
WRONG
Dim light might make it difficult for the eyes to focus, which can cause short-term eye fatigue.
Challenging visual work, such as reading in insufficient light, can also lead to short-term drying of eyes because you blink less often.
You can't damage your eyes by using them, unless you stare into the sun.
FYI : Getting too close to the set for your favorite shows won't harm your eyes – "either from overfocusing or from radiation"
Ow! My eye!
Asthenopia / eye strain : When concentrating on a visually intense task, the [ciliary muscle],(http://en.wikipedia.org/wiki/Ciliary_muscle) tightens, it's the eye muscle that helps you focus and controls blood flow to certain parts of your eye.
Giving the eyes a chance to focus on a distant object at least once an hour usually alleviates the problem.
A CRT computer monitor with a low refresh rate or a CRT television can cause similar problems because the image has a flicker. Aging CRTs also often go slightly out of focus, and this can cause eye strain. LCDs do not go out of focus and are less susceptible to visible flicker.